With 44% of home buyers reporting that an online search is the first step in their buying process, it's safe to say that websites are king in the real estate game.
Today, buyers trust and use real estate websites more than any other source, often more than agencies and agents themselves. So having a site that looks luxurious, builds trust, educates visitors, and persuades buyers is no longer an option.
If bettering your brand, boosting your exposure, and landing more leads and clients is your goal, there's no better place to start than the center-piece of your businesses online real estate – your website.
Why The Best Real Estate Websites Dominate The Market
While the importance, popularity, and ease of creating real estate websites have never been higher, the bulk of the results are still being earned by the top 10% – 20% of real estate websites.
Why is that? The answer is simple.
Not all sites are created equal and a badly designed, hard to navigate real estate website won't bring you any closer to your goals, and can even hurt your brand and results.
Think about it…
How would you feel if you were looking to make the most significant purchase of your life and a site you tried to search on loaded slow, didn't display correctly on mobile, or resonate trust and authority? You'd 'X' you're way off that page as quickly as you arrived there.
The average buyer today has so many options at their fingertips that they can choose to be picky. They're in control, and if they don't like and trust you, they'll do business with someone else.
The Solution? Create A Quality Real Estate Website
A well-designed real estate website is the only way to earn your share of the market…
Just like a luxury car or suit, a first-class website helps you to portray your professionalism, experience, and quality of service.  All of which leaves a positive impression that lasts long after your first contact with a buyer.
Sounds easy, right? Well, no…
Putting together a kick-ass website is an art form that is hard to get right. The good news is there are plenty of examples online that we can learn from.
Below we've gathered what we think are the top 5 real estate websites of 2020 and detailed what you can learn from each.
Our Top 5 Real Estate Website Picks for 2020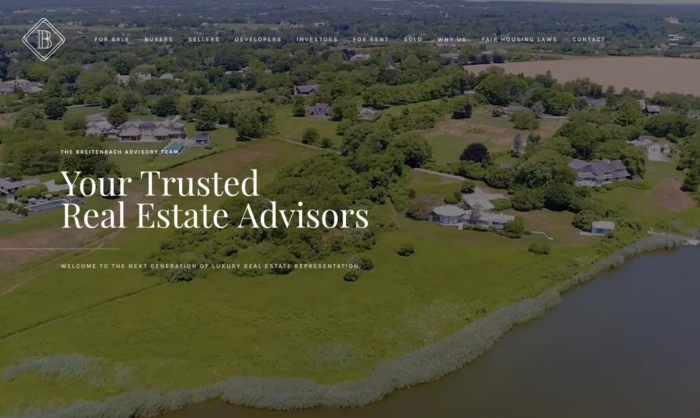 Named the #1 Luxury Real Estate Team in the Midwest for Coldwell Banker, the Dawn McKenna Group is an unstoppable force in the luxury real estate industry. Their site is both sleek and colorful, making it easy to navigate and visually appealing.
Stand-out Features:
The visual layout capitalizes on the power of first impressions. Within a moment of the page loading, you can tell they're the best in the business.
By featuring the team's Instagram feed at the bottom of the homepage, site visitors can get a sense of the group's unique blend of professionalism and youthful energy.
The homepage is full of trust-building assets highlighting their national presence, such as the fact they are the #1 team in Hinsdale, Illinois and the #2 small team in Naples, Florida.
An entire page devoted to cinema-quality property videos showcases each home's best qualities, telling a story that words can't adequately express and painting a picture that satisfies the senses.
Especially important in the age of mobile-first browsing, the design team ensure that the website operates flawlessly on both mobile and desktop.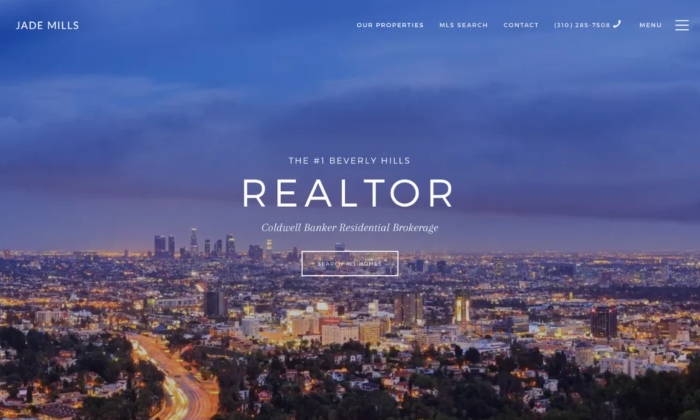 Jade's website perfectly represents her $5 billion sales history and positions her as one of the most elite luxury real estate agents in the world. Her website showcases her premier clientele and growing testimonials, putting the focus on her work in Beverly Hills, Bel Air, Holmby Hills, Trousdale Estates, the Sunset Strip, and select beach communities.
Stand-out Features:

The masterfully simple navigation with hard-to-miss positioning of her featured listings ensures visitors can get to browsing in an instant thanks to the in-built MLS search. 
Jade knows how to work the media to build credibility, and her site showcases her long list of appearances on platforms like Variety, CNBC, The Wall Street Journal, and more.
Rochelle knows how to work the media to build credibility, and her site showcases her long list of appearances on platforms like Bloomberg, CNBC, Forbes, and more.
Another power move is her investment in her very own app—a welcome feature that almost none of her competitors offer.
An interesting mini-bio on the homepage gives visitors a snapshot of her achievements, her mission, and whom she serves.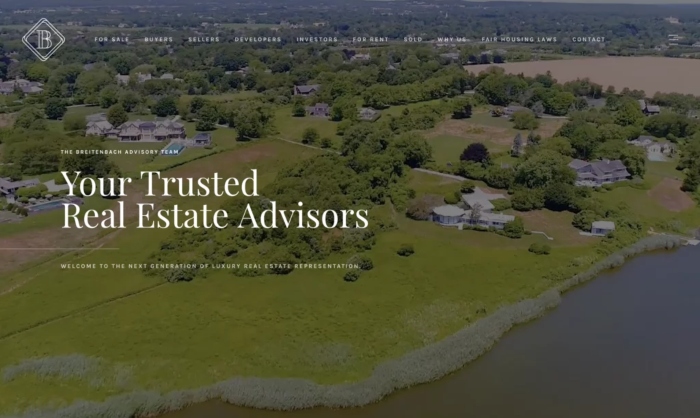 Hailing from one of the most successful real estate families in the Hamptons, The Breitenbach Advisory's website engagingly and tastefully details their reputation and involvement in an astonishing $1.5 billion of real estate sales since 2006. 
Stand-out Features:

The Breitenbach Advisory knows that nothing builds credibility faster than featuring celebrity clients like DJ Khaled & Russel Simmons, and makes full use of those stories on the homepage.
When it comes to their about page, The Breitenbach Advisory turn what's usually a dull read into a fascinating story told through a mix of videos, images, and text.
The property pages on The Breitenbach Advisory site are some of the best we've ever seen. Packed with gorgeous images, elegant descriptions, crisp HD videos, and unique sections that sell viewers on the community they'll be buying into.
Once again, you'll find a strong use of authority building assets throughout the site such as testimonial sliders, media mentions, celebrity name drops, and record-breaking sales stats – leaving no room for doubt.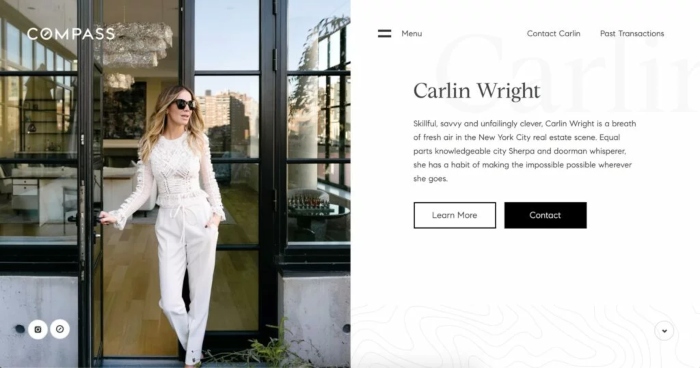 A breath of fresh air in the NYC real estate community, Carlin Wright uses her sass, class, and smarts to add massive value to the local community. Her stunning website perfectly depicts her charming personality and entices users with rich imagery and enticing, useful content.
Stand-out Features:
The most significant asset on her site is the abundance of valuable content for visitors to enjoy. Her website's an all-you-need hub of NYC real estate, including buying guides, community profiles, market updates, and other priceless resources.
The design of her website is classy, elegant, yet full of personality. Every page features either a photo of her or her community, making for a very human connection. It's impossible not to like and trust her from the moment you arrive.
For those interested in her score, her past transaction page details Carlin's $200 million sales history starting in 2013 that's packed with eye-catching property profiles and prices. A powerful display of her skill, determination, and competence.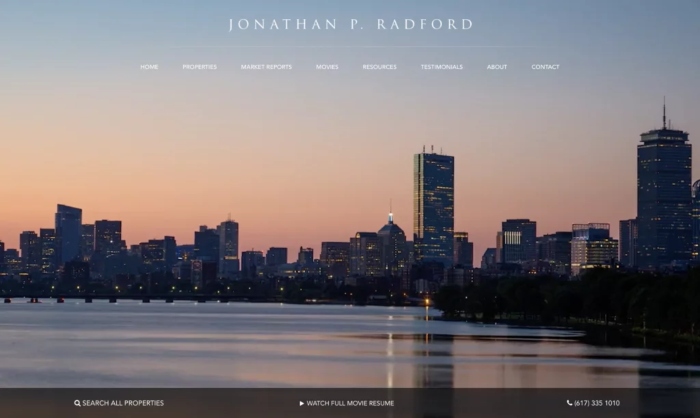 An award-winning website for an award-winning Coldwell Banker agent, Jonathan's website is designed to perfection. It features all the luxury branding essentials — and adds a few innovations for good measure.
Stand-out Features:
To say Jonathan's website is visually pleasing would be an understatement. Each page is filled with a thoughtful blend of eye-catching images and mesmerizing video to please visual-first buyers.
His website even sports a dedicated tab for movies, which includes a number of stunning pieces such as his inspirational video resume, and world-class property videos.
On the testimonial page, visitors can read an almost endless scrolling wall of raving testimonials from past clients that adds credibility and helps them to get an idea of who Johnathan is, beyond his own words.
Near the footer of the homepage, there's a section that proudly boasts that visitors can enjoy Jonathan's helpful resources and search for properties on all devices with ease.
Ready To Earn Your Spot At The Top?
Book a demo with one of our experts today and discover how we can help you create a real estate website that'll fuel your growth and position you as a major player in your industry.