Receive A $1,200 Credit For Referring An Agent, Team, or Brokerage
If your referral becomes a client, you will receive a $1,200 credit toward your subscription fee.
4.7/5 based on 2,086 reviews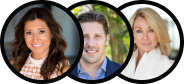 Frequently Asked Questions
How does this work?

1. Reach out to your colleague to let them know that you think that they might be a good fit to work with Luxury Presence.

2. Submit your referral using the form above. Note: You must be a current Luxury Presence client in good standing in order to receive the credit.

3. We'll reach out to your colleague using the contact information you provide, or you can make a direct email introduction with your Account Executive.

4. Our enrollment department will set a meeting with your colleague to determine if we can help and if they are interested in joining the Luxury Presence community.

5. That's it! Your referral signs up, and you receive the $1,200 referral discount!

What is the criteria for a qualifying client?

We consider a qualified customer to be any customer who has not previously signed up for Luxury Presence, has an active subscription, and is current with their payment.

How do I receive my referral credit?

A $1,200 credit will be applied to your account from our billing department. It will be automatically applied once your referral has become an active Luxury Presence client.

Is there a limit to how many referrals I can submit?

No! You can refer as many colleagues as you'd like at one time. Your referral offer will be applied for each new client you send our way.