Website copy is the core content of your landing pages, a.k.a the text that tells the story of your brand, what it does, and what it offers. Website copy isn't to be confused with website content, which is filler text that conveys ideas and concepts about your realty niche, like a blog post. The primary duty of copy is to help convert leads to successful sales. 
So, how does copy play a role in website development? Small website owners saw a 202% increase in conversions when they moved to adopt more personalized copy and CTA messaging. Unbounce's 2018 study showed that pages with under 200 words converted better, and landing spaces hosting a single CTA call clocked a 13.5% conversion rate while those with more than one tanked.
How To Write Engaging Website Copy
When writing attention-grabbing copy, you have to put yourself in the shoes of the people reading it. They could be active homebuyers, potential property owners, or visitors looking for some background in real estate before settling into the purchasing process. Remember, attention spans run out quickly, so always be straight to the point.
Here's how you can start writing copy that converts your leads into successful sales:
Know your audience
Your target audience will depend on the type of property that you specialize in. Find out what your specific audience wants and needs and then identify the keywords that they use to search for potential properties. You can choose a variety of different keyword generators to help with this, which will also come in handy later on.
Conduct competitive research
See what audience pools your competitors are reaching out to and how they do so. Look at their copy style, tone, and length to give you a better idea of what needs to be done for your website. You can also look for weaknesses in your competitors' copy strategies to boost your copy ideation further.
Choose your USPs
Next, analyze your product offerings to identify your unique selling points or USPs. This will give you an idea of how you stand out from your competition. Make a list of all the unique and specific benefits you offer, no matter how small—even the smallest benefits may appeal more to some than others.
Analyze your platform type
Copy creation varies in nuance between different platforms. For websites, you should keep the copy as concise as possible so that visitors can quickly find answers to their questions. Be direct and clear so that you can answer all the different questions that your audience could possibly be wondering. 
Set a brand voice
Think about how you'd like to sound to your potential readers. Do you want to be the friendly, neighborhood realtor who knows their stuff or the highly professional business that has been in realty for decades and has scores of massive property sales under its belt? The tone of your copy should reflect your carefully-considered brand voice. 
Set a goal for each website page
Determine a specific goal for each page you want to write for. What sort of messaging do you want to get across through your homepage? What about on your sales pages? Choose a thoughtful purpose for every page and stick to them when crafting your copy.
Source some power words
Power words can help you grab the attention of your readers and communicate what you're trying to get across without too many words. There are loads of power word buckets out there. Keep a few for reference when writing your copy.
Create a copy layout
Websites are built with a combination of containers and spaces dictated by their source code. And these usually come with character counts so that the messaging displays correctly each time. Take note of these limits and build a mockup of your website so that you'll know which copy to put on which pages.
Write a CTA
At this point, you should have everything you need to begin writing. Be sure to use as few words as possible, all while ensuring your copy still packs a punch. Including T.M.I. risks your audience stepping away from the page. Be sure to inject a few CTAs in the right places to encourage your customers to convert while their interest is still fresh.
Proofread
As with any good write-up, your copy will need a little proofreading. Step away from your copy for a few hours, and take a breather before re-reading it. This gap helps provide you with more of a reader's perspective on things and aids the editing process.
Bonus Step: Make sure your claims are accurate
Here's a little bonus step with copywriting: minding legalities. As the copy is a sales medium, you'll have to ensure that none of your claims are too outrageous or untrue. Also, try not to make promises you can't keep. Be neutral, and write only about the benefits you can really offer your customer pool.
Example
Realtor Ginger Martin's website includes fantastic examples of well-executed copy. Her sales statistics and customer satisfaction figures distinguish her website from many other real estate agents from the start. There are appropriate power words augmented by the site's design, making it easier for readers to transition from one piece of messaging to the next.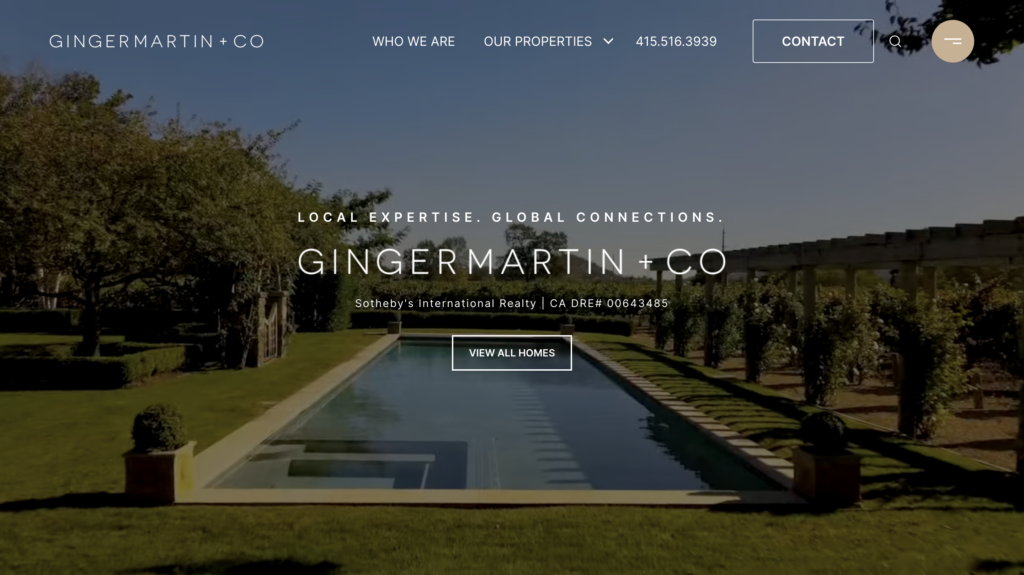 Source: gingermartin.com
However, there are a few copy-related details that could be better with this case study example. On the homepage, there's a minor amount of repetition present. Readers hate re-reading things they already know, so try not to repeat yourself and only write if you have new information to share. It's okay if you're repeating a point for emphasis, but avoid doing so too many times.