Keeping up with the ever-changing world of SEO is a job in itself—which is why many real estate agents opt to work with a professional SEO provider or agency. But even if you're working with an expert, it's smart to stay in the know about SEO so you can ask the right questions and understand exactly what is impacting your website performance.
Get this: Google uses over 200 factors to determine where websites show up in search results, some of which are publicly confirmed and some of which they keep close to the chest. But don't let that stress you out! Our SEO team has narrowed the list down to the top Google ranking factors to focus on if you want to see improvement in your rankings, which we'll dive into below.
Top Google ranking factors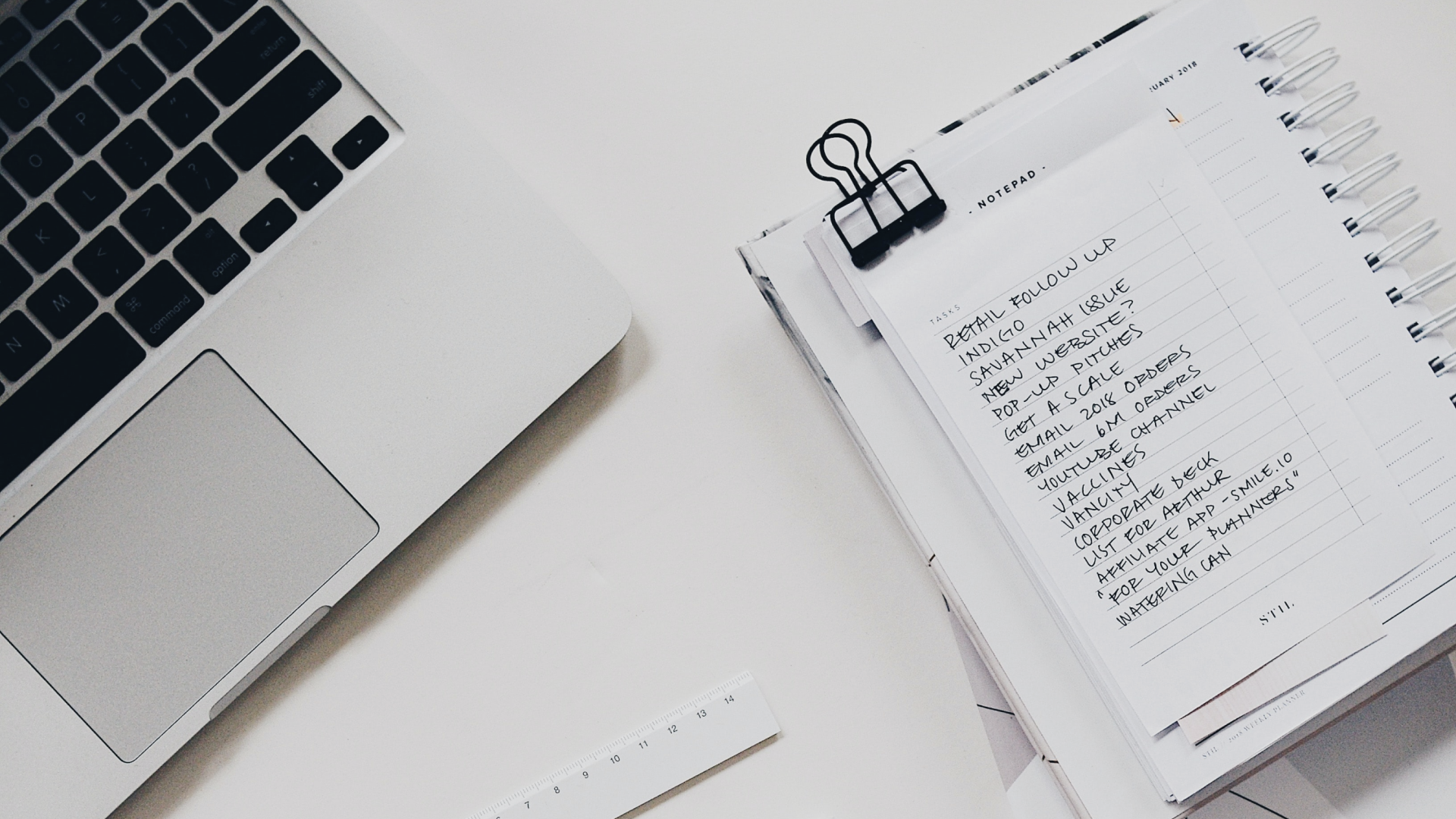 The following are ranking factors directly confirmed by Google or widely agreed upon by the SEO community.
Content relevance and quality
Content refers to the written and visual information on your page, including copy, video, and images. And the quality of that content matters to Google. You want your content to be contextually relevant to the purpose of the page and to incorporate keywords naturally. Google is very good at analyzing content and highly values relevancy and quality, so it's important to put real thought into what problem a page is trying to solve and provide helpful, topical answers.
Keyword stuffing
On the flip side, stuffing keywords into a blog post has a confirmed negative impact on a page's ranking. In earlier days of SEO, a common method for getting a page to rank was to add a keyword as many times as possible, no matter how awkward it made the copy sound. That's no longer the case. Google is adept at natural language processing, and saying the same thing over and over does not work. In fact, Google is likely to penalize sites and pages that do this.
Keywords
Having said that, keywords are obviously still an extremely important ranking factor. Keywords should appear in headlines, copy, videos, captions, and other places on your page. It's how and where they show up that matters, which is why a good content strategy is critical.
Title tags
While they might not be the most important factor in Google rankings, title tags matter because they're the first impression that someone gets of your website. Your title tag appears as a link on the search engine results page (SERP) and should briefly explain what the page is about. While there's technically no limit to how long a title tag can be, Google will truncate the text to around 60 characters.
Core Web Vitals
Core Web Vitals are another confirmed Google ranking factor. Essentially, they are a measurement of your page's performance and what kind of experience a user will have when visiting it. They include Largest Contentful Paint (LCP), which measures loading
First Input Delay (FID), which measures interactivity, and Cumulative Layout Shift (CLS), which measures visual stability. In non-technical speak, this means things such as how long it takes the largest image on the page to load and how long it takes before a visitor can interact with a page.
Page headings
These relate to headlines and subheadlines, which give your page structure and help users navigate it. As long as they are well-written and contextually relevant, Google will use these to better understand your page. In the example below, the page heading includes high-value keywords that are relevant to someone searching for what it's like to move to San Francisco.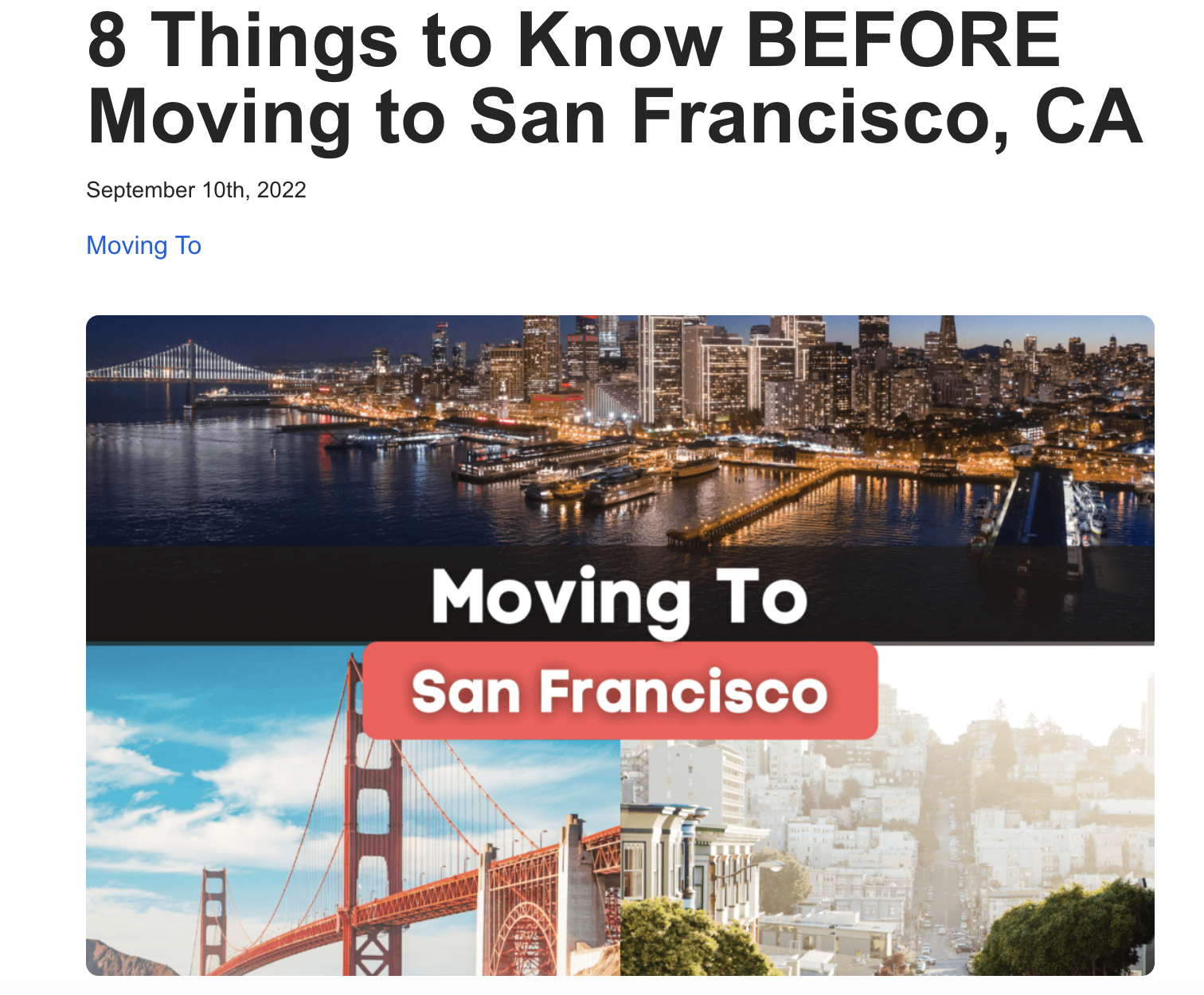 Location
When you set up your Google Business Profile or your website is crawled and indexed, your address is collected. Because Google knows the general location of its users, their proximity to your address affects how high you'll rank. For example, if someone in Boston is searching for "TX real estate agents," your website may not appear at all, while it will show up for someone who is searching from Dallas.
Anchor text
Another confirmed Google ranking factor, anchor text is the text on a button or a link that points the visitor to a different page. While "Read More" or "Click Here" are commonly used, descriptive text is more helpful when it comes to SEO. For example, rather than using "Read More" to direct someone to a blog post about fun things to do in Miami, your link could instead say, "Our 10 Favorite Things to Do in Miami." By including keywords in your anchor text, you let Google know what the linked page is about.
HTTPS, not HTTP
This factor is pretty straightforward: Google wants you to use HTTPS rather than HTTP. HTTPS is a secure communication protocol that tells a browser to encrypt data, which is important for protecting your site and user data.
Mobile responsiveness
As of Q4 2022, 59.16 percent of global website traffic came from mobile devices. Google grades websites on how they perform on mobile, so making sure your pages are mobile-optimized is very important.
Backlinks
When another website links to your website, that's called a backlink. The more credible and authoritative the website that links to yours is, the more Google will factor that in. Getting a link from the New York Times, for example, will have a lot more value than a link from a random blog.
While not officially confirmed, the following is considered a probable Google ranking factor.
Alt text
Alt text means "alternative text" and is a description of images, graphics, or videos on a website that is read by screen readers. This makes your website more accessible, which is a good practice regardless of SEO factors. Alt text can also help inform what is on the page and is considered a probable Google ranking factor.
The following are not considered direct Google ranking factors—but they still provide a positive user experience for anyone visiting your website.
External links
External links add value for your site visitors. For example, if you're writing a blog post about the best restaurants in Dallas, you'll likely include a link to each restaurant's website. Including these links save your readers time and hassle, but there's little value to your own website rankings.
Meta description
It used to be that including keywords in your website description could help improve your rankings. Today, they only serve to provide more information and help entice someone to click on your site—useful, but not a direct ranking factor.
Word count
There's a lot of chatter online about the length of blog posts and other website content. But the truth is, a 500-word post isn't worse or better than one with 2,000 words. There's no magic number—word count is simply not a Google ranking factor. What matters is a page's quality, as mentioned earlier. The only "right" word count for a blog post is the number of words you need to deliver a page's message in a relevant, thoughtful way.
Content date
When a piece of content was published generally does not affect a website's ranking. The only nuance here is when someone is searching for content about a specific timeframe. For example, a search for lists of the top vacation spots in 2023 will often, though not always, show more recent content pieces. It's important to note that republishing existing content with a new date will not improve search rankings.
Other Google ranking factors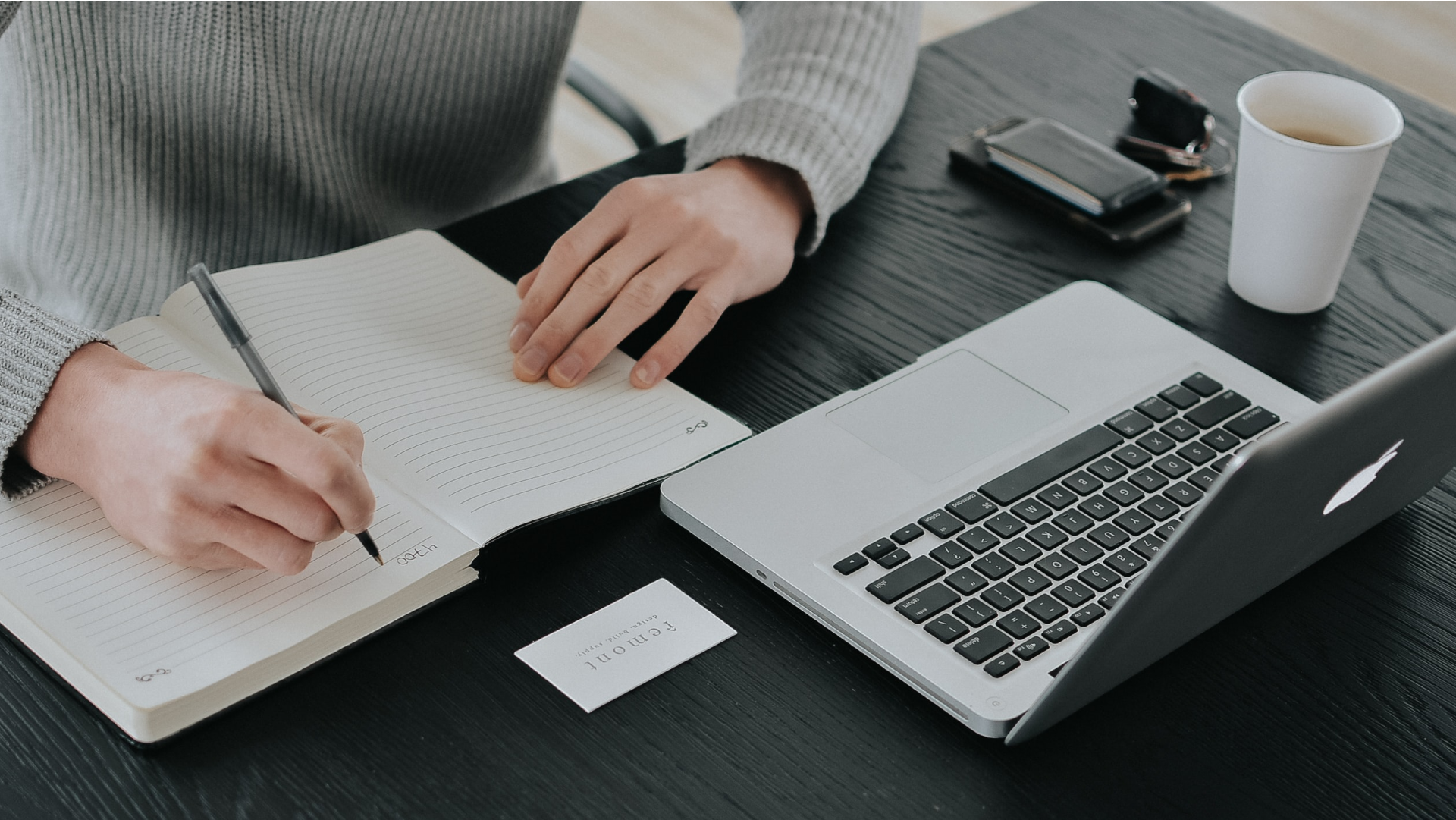 The Google ranking factors we mentioned above are our key priority at Luxury Presence, as they have the greatest impact on your ranking. But we keep a pulse on all the latest changes and updates to make sure the real estate professionals we work with always stay competitive in search results.
Again, our SEO experts speculate there are over 200 (!) ranking factors that Google uses in its algorithm. In no particular order, here's a list of other suspected Google ranking factors:
Domain age
Originality of the page's content
Keyword in your domain
Keyword is the first word in your domain
Domain registration length
Keyword in subdomain
Domain history
Penalized Whois owner
Public WhoIs instead of private Whois
Presence of the keyword in the title tag
Adding the keyword within the first 60 characters of your title tag
Keyword in your meta description tag
Presence of the keyword in the H1 tag
Keyword is frequently used in the content
Presence of a linked table of contents
Keyword density
Presence of semantically related keywords
Semantically related keyword in meta title and description
Page loading speed via HTML
Page loading speed tested on Chrome
No duplicate content on the same site
Image optimization through ALT, title, and  file name
How many edits were made to the content during updates
Historical data on page updates
Proper use of rel=canonical
Presence of keyword in H2 and H3 tags
Presence of keyword in the first 100 words
Grammar and spelling (as it relates to page content quality)
Entity match
Number of high-quality outbound links
Hidden content on mobile (may not be indexed)
Presence of multimedia, for example, images and videos
The quality of outbound links
Theme of outbound links
Presence of helpful supplementary content, like free tools and calculators
Content hidden behind tabs
Number of internal links pointing to the page
Quality of internal links
Presence of too many broken links
The reading level of the page
Presence of many affiliate links
Presence of many HTML errors
Authority/trust level of the domain
Authority/trust level of the page
PageRank
Length of URL
Closeness of URL to the homepage
Presence of keyword in URL
Opinion of human editors
Relevance of page's category to page
Content formatting for user-friendliness and readability
Priority of the page in the sitemap.xml
UX signal from pages ranking for the same keyword
Citing references and sources
Use of a user-friendly layout
URL string in Google search engine results
Internal link anchor text to the page
Use of structured data
Site-level factors
Presence of a contact us page or an appropriate amount of contact information
Content on the site provides value or new insights
TrustRank (how close your site is to a known and trusted site in terms of linking)
Website updates for freshness factor
Site architecture
Presence of a sitemap
Long-term site downtime
Location of server
Presence of legal pages (terms and conditions and privacy policy)
Unique metadata
Use of breadcrumb markup
Site-wide mobile optimization
Site-wide user-friendliness (usability and interactiveness)
Bounce rate
Domain authority
User reviews
Site reputation
Age of linking domain
Number of referring domains
Number of links from separate c-class IPs
Number of referring pages
Anchor text of backlinks
ALT tag of image links
Number of links from .edu and .gov domains
Trust factor of linking page
Trust factor of linking domain
Number of links from expected sites in your industry
Links from bad neighborhoods
Number of links that are not from ads
Diversity of link profile
Context of content the content of linking page
Presence of more follow links that are sponsored or UGC
Lots of backlinks to URL with 301 redirects
Location of link in content
Links from relevant and high-quality domains
Links from relevant pages (internal linking)
Presence of your page's keyword in the title of the linking page
Natural rate of growth in number of links
Spiky and unnatural rate of growth in number of links
Links from top resources on a certain topic or hubs
Number of links from sites that are considered authority sites
Linked as a source in a Wikipedia article
Words around your backlinks
Backlink age
Links from real sites vs fake blogs
Natural link profile
Excessive reciprocal links
Links in real content vs. UGC
Backlinks from a page with a 301 redirect
TrustRank of linking site
Fewer outbound links on the linking page
Links in real content vs links in forums
Word count of linking content
Quality of linking content
Sitewide links = one link
User Interaction
Organic click-through rate for exact keyword
Organic click-through rates for all ranking keywords
Dwell time
Bounce rate
Measurement of how users interact on your site based on RankBrain
Total direct traffic
Percentage of repeat visitors
Blocked sites
Percentage of visitors that click on other pages on the SERP after clicking visiting your page
Page frequently bookmarked by Chrome users
Number of comments on page
Need for diversity in the SERP
Need for freshness in the SERP
Browsing history of the user
Search history of the user
Succinct answers, formatting, page authority, and HTTPS for featured snippets
Geo-targeting
Adult content or curse words (excluded from safe search results)
High content quality standards for YMYL keywords
Legitimate DMCA complaints
Need for domain diversity in SERP
Transactional searches
Local search results
Presence of news stories related to keyword for the Top Stories box
Search intent
Presence of big brands with relevant content (they are often ranked higher)
Presence of results optimized for Google Shopping
Image results
Branded search
Easter eggs and April Fools' Day jokes and hoaxes from Google
Spammy queries
Spammy sites
Brand Signals
Brand + keyword searches
Branded anchor text
Twitter profile with followers
Official LinkedIn page
Facebook page with lots of likes
Branded searches
Known author or verified online profile
Real social media accounts
Top stories with brand mentions
Brand mentions without links
Physical location of offices
On-site Web
Links to bad neighborhoods
Multiple and sneaky redirects
Flagged server IP address
Distracting ads and popups
Popups that are spammy and difficult to close
Over-optimizing the site
Gibberish content
Use of doorway pages
Lots of ads above the fold and not much content
Hiding affiliate links
Low-value content sites
Affiliate sites
Keyword stuffing in meta tags
Compute generated content
Nofollowing all outbound links
Off-site webspam Factors
Unnatural and sudden increase in backlinks
Hacked site
Lots of low-quality backlinks
High percentage of links from unrelated websites
Low-quality directory links
Automatic links in widgets
Links from sites with the same server IP
Using "poison" in your anchor text
Ignored manual actions in the search console
Selling links
Temporary link schemes
Work with the real estate SEO experts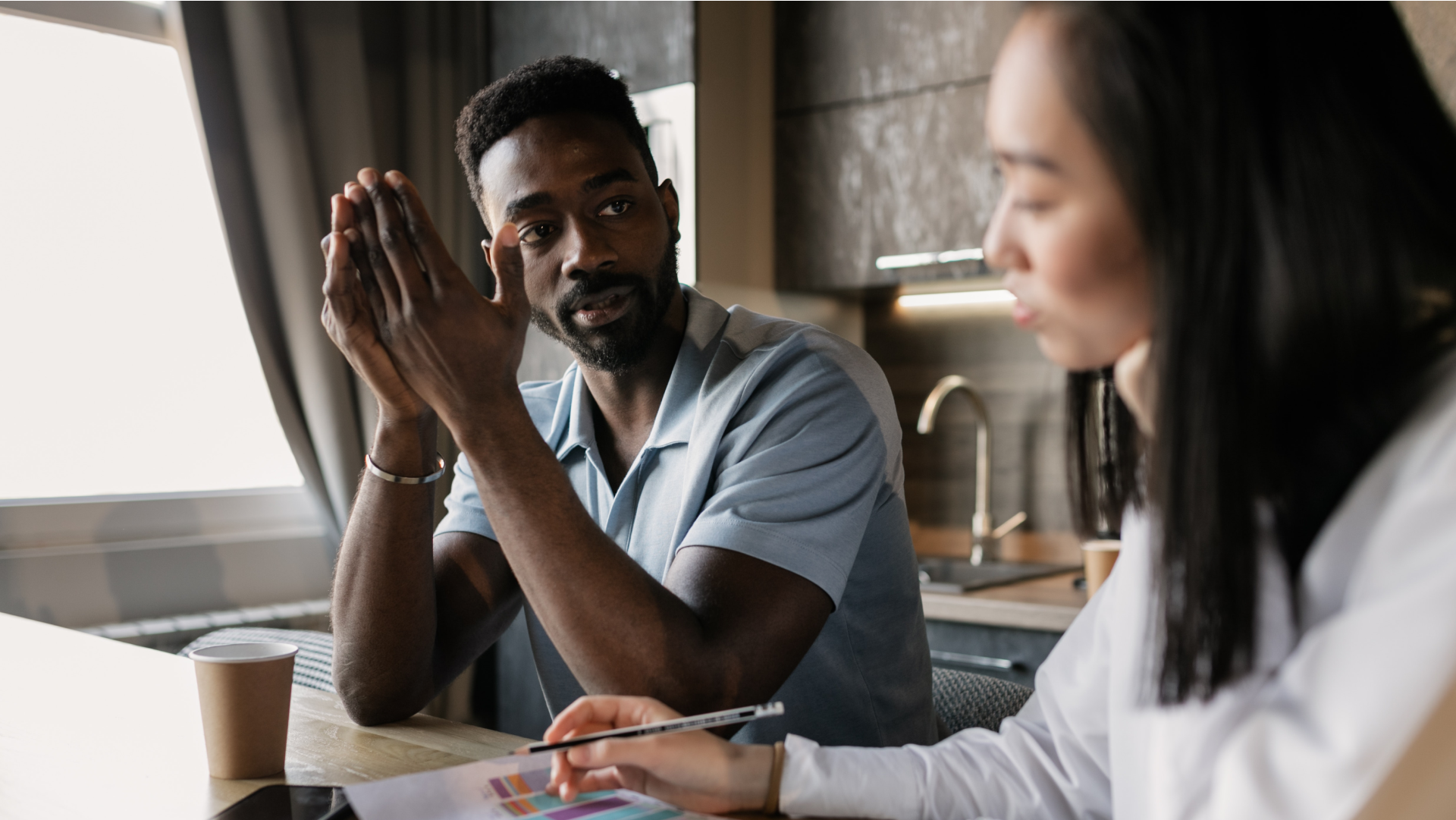 Whew, right? We get it if you're feeling exhausted just by looking at that list. That's exactly why most real estate professionals hire SEO experts to handle their search engine optimization. If you tried to focus on all of these factors, you'd have no time left for real estate!
If you want to take your website rankings to the top of the SERP without stress, our expert team is here to make the whole process approachable and successful for you. Get started by booking a call, and we'll walk you through how we can work together to get you discovered on Google.