Landing pages are a huge key to the success of many marketing campaigns, particularly those involving paid ads or automated emails. Even if people click through, if your landing page isn't clear, engaging, and designed to convert, you can lose them right there. To capture the leads you want, you need a high-converting landing page.
What are real estate landing pages?
Landing pages are often confused with home pages. While your homepage is where someone might "land" if they find your site through search or another channel, a landing page is generally much more specific. A homepage should help new web visitors find other pages on your site, but a landing page should have a single goal and operate in a highly targeted manner. A high-converting landing page will drive clicks to your call to action (CTA), resulting in leads.
Anytime you run an ad or an email campaign, the link you include should drive to a clear, concise landing page that makes that intended action extremely easy to complete. And the more landing pages you have, the more opportunities you have to generate leads. According to HubSpot, companies see a 55% increase in leads by simply increasing their total landing pages from 10 to 15.
Why you need real estate landing pages
There are tons of benefits to building real estate landing pages, including:
Maximizing your impact on targeted traffic: If you're spending money to reach your target audience through ads or emails, you want to see results. Landing pages help the audience you're targeting see the value in what you offer and increase the odds that they'll convert.
Building and growing your email list: By adding lead capture forms to your real estate landing pages, you can collect the email addresses of potential clients so you can contact them in the future.
Showcasing properties in depth: Creating dedicated single-property websites allows you to show off your listings and provide potential clients with valuable information they're looking for.
Creating a sense of urgency: Landing pages are a great way to create a sense of urgency about listings, deals, and more. For example, you can urge someone to sign up for your mailing list to get immediate access to exclusive listings.
Accurately measuring campaign results: When you drive potential clients to a landing page, you can better track the success of your campaigns, including page views, bounce rate, conversion rate, and more.
8 effective real estate landing page examples
Before getting started, it can be helpful to see landing page examples from other real estate businesses. These Luxury Presence-built landing pages are beautiful—and highly effective at capturing buyer and seller leads.
Buyer Leads
Why it works: This custom landing page was built as a place to drive paid ad traffic and generate buyer leads. It features a lead capture form with a sense of urgency that prompts visitors to immediately enter their information in order to continue.
Why it works: This well-designed real estate landing page displays all of the brokerage's available listings in a specific area of Austin. When someone clicks on a property, they're immediately taken to a page where they're prompted to submit their contact information in order to view the property details.
Why it works: High-impact visuals, transparent language, and clear benefits are tailored to the audience of modern luxury buyers in Las Vegas—and a single call to action effectively captures leads.
Why it works: The landing page features high-impact visuals of featured listings and is consistent with Wow Real Estate's branding. It also shares information about Puerto Rico that reinforces the team's area expertise, as well as a compelling message crafted for a very specific audience (note the blurb on the tax incentives in Puerto Rico that are ideal for "online entrepreneurs and service providers who have U.S. businesses, employees, and clients"). Finally, it's got a single, clear CTA to drive results.
Seller Leads
Why it works: Offering a free home valuation brings in seller leads, who are immediately prompted to enter their address and contact info in order to receive that information. The page is simple, clear, and straight to the point.
Kendrick Guehr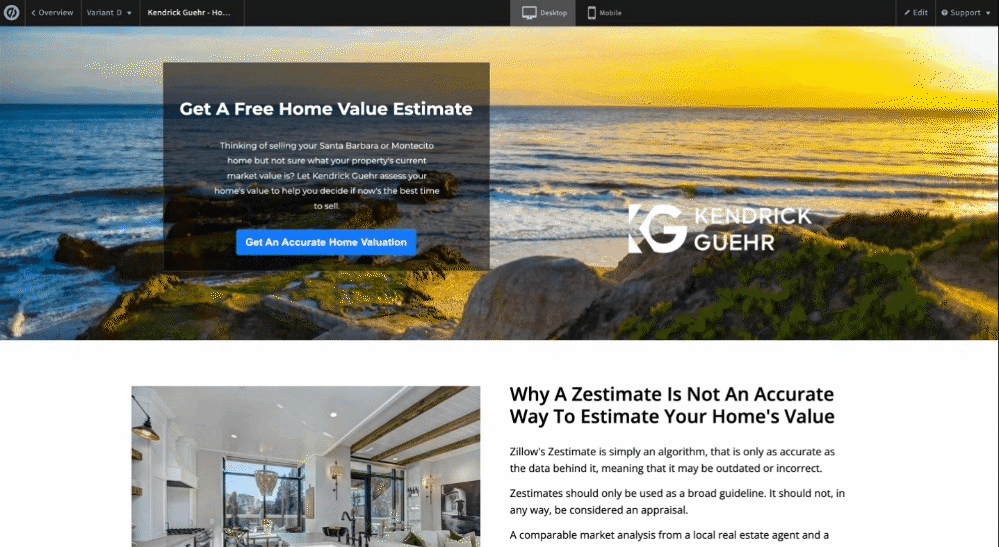 Why it works: Transparent language and benefits speak to the concerns of the target audience, including why this valuation is more trustworthy than a Zestimate. The landing page also displays social proof in the form of testimonials, highlights recent transactions to reinforce Kendrick's success and expertise, and features a single call to action.
Why it works: Similarly, this landing page speaks to a specific audience, clearly addresses home seller concerns, displays testimonials and recently-sold homes to reinforce Jesse's expertise, highlights listing services, and includes a clear CTA.
Why it works: Compelling "what to expect" messaging puts discretion-seeking homeowners at ease. Meanwhile, high-impact imagery highlights the upscale listings the team has experience working with and a single CTA drives action from leads.
How to create high-converting real estate landing pages
Ok, so you're convinced: you want to start building real estate landing pages. These nine tips will help you develop ones that work.
Determine your target audience
To determine the content, visuals, and CTAs that belong on your real estate landing pages, first consider your target audience (here's how to determine your ideal client). If someone clicks on your ad and lands on this page, what are they looking for? What questions do they have? Thinking this through will help you create a landing page that caters to their needs and questions—making them much more likely to enter their contact information or schedule a meeting with you.
For example, let's say you send out an email campaign to spread awareness about a new listing. Your landing page should contain more information about that specific listing, not an offer for a free buyer consultation. Likewise, the call to action should be to schedule a showing for that listing, rather than to book an introductory call with you. A one-size-fits-all approach to landing pages is very unlikely to drive the landing page conversions your business needs, so think about your target audience and speak to them.
Write a strong headline
The first thing a visitor should see on your landing page is a clear, concise headline that sums up what you're offering or what question you're going to help answer.
For example, if you're looking to beef up your email list with more potential clients, you might run a social media ad campaign promoting a free property value estimate. In this case, your headline might read, "What is your home really worth?"
Keep your landing page headlines short and easy to digest. Aim for around ten words or two lines of large text maximum, and keep in mind that this might be the only copy visitors take the time to read completely. Make it count!
Make a compelling offer
Ideally, this step will flow quite easily from the planning you've already done for your ad or email campaign. The two main questions to consider:
What are you trying to get? This may be email addresses, introductory phone calls, appointments for buyer consultations, or showings.
What are you offering in return? This may be neighborhood guides, homebuyer tips, or market updates.
What you're offering must be useful to your specific target audience. If your ad is about earning money on a real estate sale, don't waste time offering resources on making a strong offer on a home. Think about the questions your audience will be wondering about, and then create an offer that answers them.
Your landing page is about convincing people that what you're offering is worth giving you what you're asking for. But it doesn't need to be extravagant. A free neighborhood guide in exchange for an email address can be simply a few pages with professional photos and a quick blurb about each area.
Get to the point
Don't bury the main point of your landing page in endless paragraphs of copy. Keep the content short and meaningful, while still providing enough information about the value of your offer. The examples above as well as some landing page templates you can find online are helpful in showing you how much copy to include.
Keep things simple
All landing pages should include a clear call to action and an accompanying form. This is where visitors will input their address and email for a property value estimate, fill out a Calendly form for a buyer consultation, or enter their email address in exchange for a helpful PDF.
The fields in these forms should be as few and as simple as possible (most of the time, first name and email address will suffice). This can be the difference between a high-performing landing page and a page that visitors abandon after deciding it requires too much time or effort.
Lean on social proof
People are understandably protective of their email and home addresses. Providing client testimonials and social proof near your call to action and lead capture forms helps establish trust. (Just remember to keep them concise so people actually read them!) Your landing page is also a good place to include any certifications, awards, or badges you've earned.
Be consistent with your branding
Consistency helps build trust and brand awareness, so make sure your landing page design and colors match the branding on the rest of your site and social media platforms.
Use images and video
Concise, clear headlines are powerful, but a compelling image or video can be even more effective. Use professional photos and graphics to demonstrate your value and establish trust. Stay away from images that are distracting, low-quality, or inconsistent with your branding.
Optimize for mobile users
In Q4 2022, mobile devices generated more than 59% percent of global website traffic. Your real estate landing page (as well as your website) must be optimized for mobile users, or you risk losing potential clients as soon as they land.
Build beautiful real estate landing pages that convert
Landing pages are powerful, but they don't need to be complicated—especially if you team up with experts to help you develop yours. Our team has deep experience building beautiful, high-converting landing pages that help you build your brand and capture leads. If you're interested in learning more, reach out to start the conversation now.