Amidst the myriad of real estate agents in today's bustling market, standing out can be difficult. Still, there are ways to get your name out there. One of the best ways to set yourself apart from competitors is to show your appreciation by coming up with personalized real estate pop-by idea to show appreciation for your clients and generate referrals and new business.
What are real estate pop-bys?
Real estate pop-bys are personalized gestures where agents visit past and prospective clients with small — but impactful — gifts. These thoughtful presents usually have a catchy slogan attached and are a way to remind clients of who you are.
Pop-by gifts are versatile and can be given anytime throughout the year. Whether given during the holiday season, after closing a deal, as a spontaneous surprise, or simply 'just because,' there's no wrong time to do it. Some agents keep them handy in their cars, ready to seize the perfect opportunity. Others create big batches once or twice a year, dropping them off to clients in one go.
We'll explore our favorite ten real estate pop-by ideas — throwing in some unforgettable slogans — that will leave a lasting impression while helping you foster stronger relationships with your clients.
Why real estate pop-by ideas matter
Pop-by gifts are a great marketing strategy, showing your clients you genuinely think of them. Taking the time to show you care can yield multifaceted benefits. Specifically, pop-bys establish a personal connection with clients, boost brand recall, and enhance referral rates.
Connection with clients
Delivering a personalized pop-by gift at your client's doorstep signifies a deep appreciation for your relationship. It shows that amidst your busy schedule, you want to stay in touch. These gestures go beyond transactions and make clients feel valued, which fosters trust and loyalty. In a crowded market, these actions dramatically differentiate you as a real estate agent.
Thoughtfully chosen client appreciation gifts are pivotal in nurturing a positive relationship. They facilitate ongoing and natural conversations throughout the year, proving invaluable when referrals are lower than you'd like.
Boost brand recall
Client appreciation gifts are one of the most effective realtor branding strategies to get your name recognized and remembered. Promote positive customer relationship building and leave a lasting impression by choosing unique home-buying gift ideas.
Personalizing real estate pop-by ideas encourages clients to remember your branding. Think of recent conversations where they've shared something personal with you. What hobbies do they enjoy? Do they prefer coffee? Tea? The more you know your client's preferences, the more they will genuinely appreciate the gift.
Each time clients receive a present with your branding on it, you reinforce their ability to recall your name when their — or their close circle of friends — real estate needs arise.
Enhance referral rates
Referrals are paramount to your success due to their far-reaching impact and cost-effectiveness. Real estate agents with high referral rates often harbor a reputation for delivering exceptional service because clients readily recommend them to friends and family.
You need to build trust and long-lasting relationships with your clientele to increase your referral rates. Pop-by gifts are a great way to boost your credibility, placing your name at the forefront of your client's mind.
The more easily people recall your name, the more likely they will recommend your services. Remember, a client who feels valued is more inclined to share their positive experiences.
Top 10 real estate pop-by ideas
The best real estate pop-by ideas are curated, high quality, and practical. You want your clients to know you're thinking of them while ensuring your gift won't end up in the trash. Here are ten gift ideas to show your appreciation.
1. Customized keychains: 'Unlock your dreams with our team'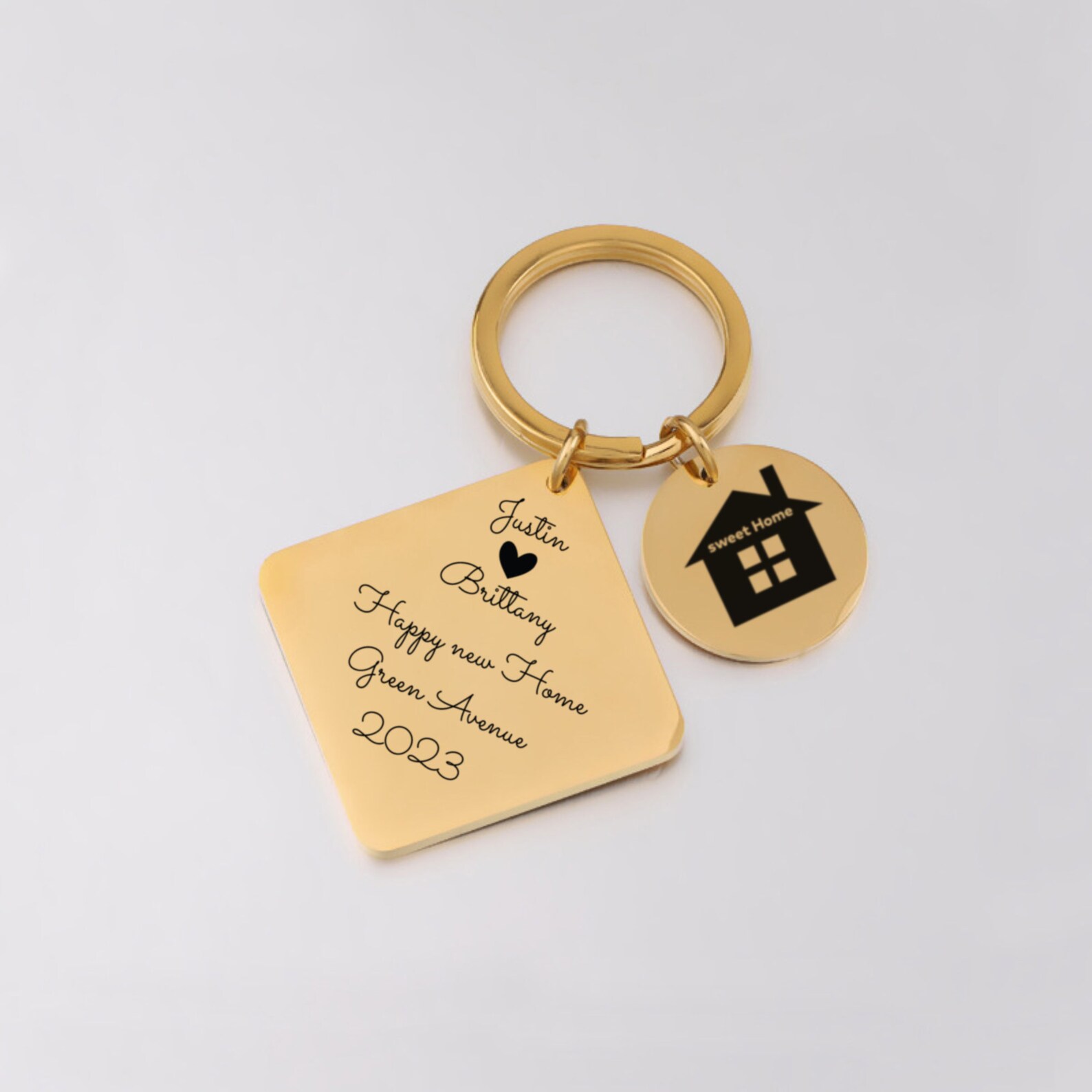 When it comes to thoughtful pop-by gifts, don't overlook the power of a customized keychain. Think about it, a keychain is not just a practical utility—it's a daily reminder of your unique brand.
It's compact, always visible, and used multiple times a day, subtly reinforcing your brand's presence in clients' minds. You can inject your personality into it, create something aesthetically pleasing, and sophisticated or fun and playful.
It's not just about handing over keys; it's about leaving a piece of your brand with your clients, a constant reminder of your dedication and exceptional service in the crowded real estate space.
It's a minimal investment with maximal impact, fostering positive associations and conversations around your brand.
How to personalize and where to buy
You can add your branding by customizing the keychains with your agency's logo, colors, and contact information. Consider attaching a thoughtful note, message, or slogan with the gift to create a lasting impression.
Websites such as Zazzle and Etsy offer a variety of easily-customizable keychains.
2. Personalized oven mitts: 'I have to adMitt, I enjoyed working with you'
Personalized oven mitts are another great real estate pop-by idea. They are not only practical kitchen essentials but thoughtful additions to the heart of every home, the kitchen. By offering personalized oven mitts, you extend a warm, lasting reminder of your relationship with your clients, each time they cook a meal or bake. It goes beyond simply facilitating property transactions; it's about enhancing the essence of their home life, injecting warmth and care into their daily routines.
A personalized oven mitt is not just a tool—it's a conversation starter, subtly endorsing your services every time it sparks curiosity in guests and friends visiting your client's home. It's about creating a presence in your client's lives and their circles, allowing your name to come up in conversations organically, which opens doors to potential referrals and new connections.
Consider this: Every time your client reaches for that oven mitt, adorned with your personalized touch, they're reminded of your dedication and the thoughtful relationship you've cultivated with them. It reinforces the perception that you're not just about selling properties; you're about enriching lifestyles, about creating homes filled with warmth and joy.
So, when planning your next pop-by gifts, think about the subtle, warm embrace of personalized oven mitts—they're a loving wrap around the essence of every home, fostering enduring connections and enriching your client relationships.
Additional gift ideas and where to purchase
Enhance the gesture by including a homemade dessert along with your oven mitt. Presenting a freshly baked loaf is an infallible way to express your appreciation.
You'll find a wide selection of economical oven mitts and gift tags on Etsy and Amazon.
3. Branded flower seeds: 'Your referrals help my business grow'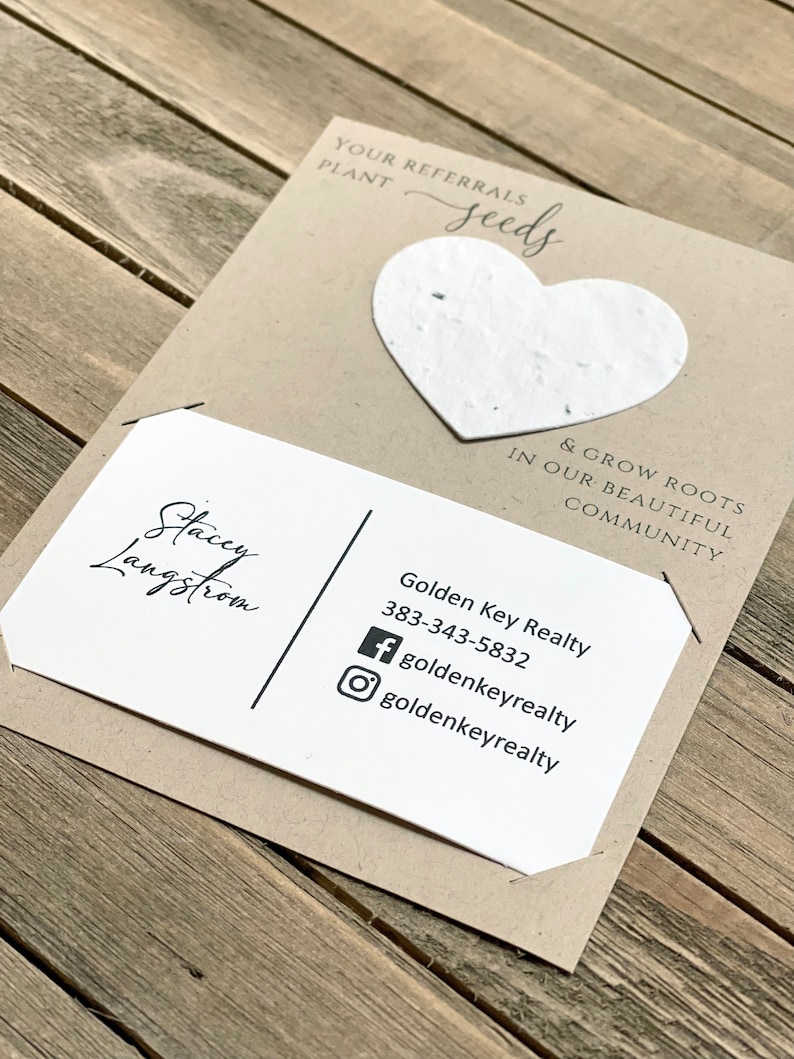 The benefits of receiving flower seeds are multilayered. On top of the multiple health benefits of caring for plants, your clients will be reminded of you every time they water the plant, during different stages of the growing cycle, and finally, when the flowers blossom. Nothing quite beats the satisfaction of successfully growing a plant into its fruition, and the joy they feel when smelling the fresh flowers will be associated with you.
Who would appreciate branded flower seeds?
For clients with a large outdoor space and who enjoy gardening, flower seeds are a wonderful real estate pop-by idea that will surely leave a lasting impression. Flower seeds are one of many thoughtful real estate client gifts with ample varieties to choose from.
Additional gift ideas
If flower seeds aren't enough to show your appreciation, pair the gift with a gardening tool. A hand trowel is a perfect addition for people who don't already own one and don't have a green thumb — yet. For busier clients who realistically won't be able to plant their seeds, consider purchasing an established low-maintenance houseplant, such as a snake plant or succulent.
How to personalize and where to buy
Personalize your gift by adding your branding to custom seed packets that are available on Etsy, or opt for creating branded gift tags on design websites — such as Canva — to add to store-purchased seed packets. Don't forget to include your name, contact information, and a catchy real estate marketing slogan to boost your chances of staying top of mind while you let the plant work its magic.
4. Personalized coffee mugs: 'Brewing real estate success together'
A personalized coffee mug is a real estate pop-by idea that will certainly be integrated into your client's daily routine. They're practical, universal, durable, and are a warm gesture.
Who would appreciate a personalized coffee mug?
Coffee is a popular beverage. Nearly 3 in 4 Americans drink at least one cup of coffee a day. The benefit of a mug is that it can be used for any beverage, not just coffee: tea, hot chocolate, water; the choices are unlimited. This universal appeal makes mugs a significantly all-around great gift.
Adding your brand to coffee mugs
Putting some effort into the mug's branding will put you above your competitors because a coffee mug is not exactly an innovative gift idea. The more aesthetically pleasing your mug is, the more likely it will be used every day. Customize your mug with your logo and a catchy slogan or personalized message your client will resonate with.
Additional gift ideas and where to buy
Consider adding a premade hot cocoa mixture to sweeten the gift. This addition will leave an even better impression of your agency in their mind.
Design your mug and add your personal touch on Zazzle or VistaPrint.
5. Door stoppers with logo: 'Let's open new doors together'
A unique real estate promotion gift is a door stopper with your logo on it. Door stoppers help homeowners create a comfortable and functional living environment, improving their quality of life.
When most people think of door stoppers, they think of a wedge to stick underneath the door. However, many different options are as a-door-able as they are practical: animal-shaped door stoppers, fabric door stoppers, children's themed, fruit and vegetable shaped, and more. The countless door-stopper options allow you to get personal with this gift and choose one that best suits your client's preferences and style.
How to add your brand and where to buy
Even door stoppers can be branded with your logo and contact information. Consider choosing a door stopper that matches your brand colors to ensure your agency is subtly present in your client's home. The more unique the door stopper is, the higher the chance of it leading to a conversation with visitors who notice it. This could result in the opportunity to discuss your real estate services.
One of the most versatile e-commerce stores to purchase customizable door stops is Etsy.
6. Miniature tool sets: 'I've got the tools to assist you with all your real estate needs'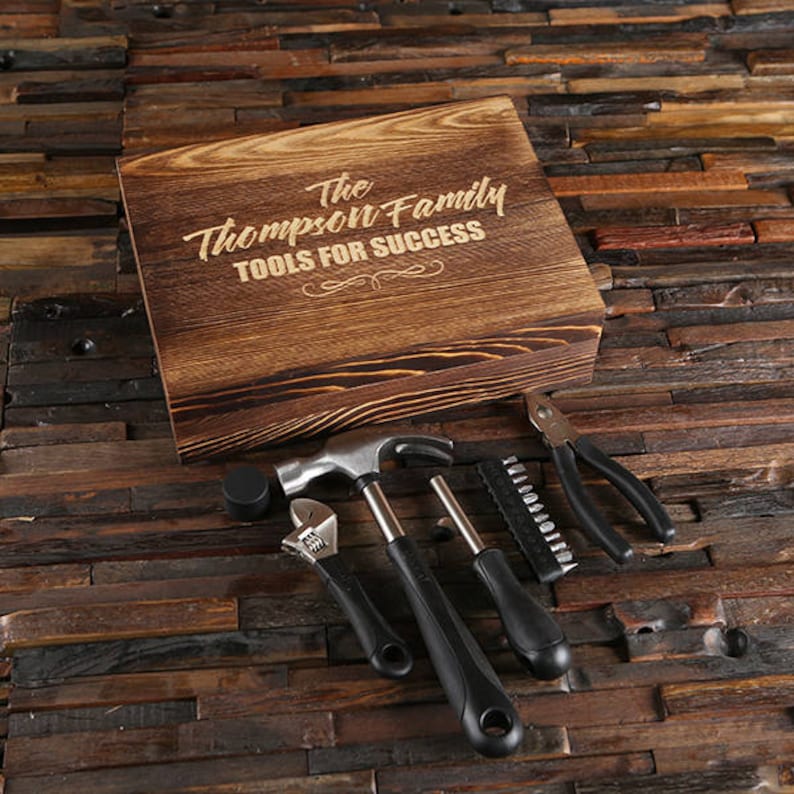 Every homeowner will need a toolset at one point or another. Addressing their needs for home maintenance and providing the tools they need — before they even know they need it — helps to strengthen stronger client relationships. It demonstrates that you've thought of their well-being and have gone out of your way to hand-deliver the assistance.
Who would appreciate a miniature tool set?
Most homeowners understand that their homes will require constant upkeep and yearly maintenance. Regardless of your client's background or lifestyle, they can all benefit from having basic tools for quick fixes and simple repairs.
How to add your brand and where to buy
Miniature tool sets can be customized with your logo, brand colors, and name. Every time your client reaches for the tool kit, your name will be associated with the practicality and preparedness that the gift provides. Moreover, the toolset enhances your image as a helpful real estate agent who goes beyond transactions, leading to positive associations with your agency.
ProImprint carries a variety of different-sized miniature tool kits. Choose your favorite, stick your branding on it, and surprise your clients with this generous present.
7. Eco-friendly shopping bags: 'Your dream home awaits. I've got it in the bag'
Eco-friendly shopping bags are practical, versatile, and easily purchased. The best benefit of these pop-by gifts is that they're an excellent promotional item for real estate agents because they're a walking advertisement for your agency. The more trendy your eco-friendly shopping bag is, the more likely your clients will use it for grocery shopping.
Not only are these bags great for grocery shopping, but they're also suitable for errands, travel, and everyday use. The more frequently they're used, the more exposure your brand will receive.
Who would appreciate an eco-friendly shopping bag?
This client appreciation gift is ideal for an eco-conscious client because it shows your commitment to sustainability and responsible consumer choices. As places across the globe make a conscious effort to limit the use of plastic bags in grocery stores, more people are adjusting to a more eco-friendly lifestyle.
How to add your brand and where to buy
Enhance this personalized real estate pop-by idea by filling the bag with more branded items, printed pamphlets about your available listing, a fountain pen, and anything else you think your clients will find useful. Prospective clients at the start of their home search will find this gift especially useful.
Choose from hundreds of options of reusable bags — totes, drawstrings, jute, linen, foldable, and many more — on Etsy.
8. Branded calendars: 'Count the days until you move into your new home'
While some real estate pop-by ideas are short-term presents, branded calendars have a year-long exposure. Calendars are used daily and usually placed in an area where homeowners and visitors are likely to see them consistently and are one of the most practical pop-by gift ideas.
Due to the year-long lifespan of a calendar, there are more chances for your client to engage in a conversation with viable referrals they could potentially send your way.
Who would appreciate a branded calendar?
Calendars are relevant to people of all ages and professions and can be placed at home or in the office. This gift will help your clients stay organized and help manage their schedules effectively.
How to add your brand and where to buy
Calendars are an effective real estate pop-by idea because there are 12 opportunities to catch your client's attention. Take advantage of this pop-by gift, and get creative while marketing your brand.
Consider using online design tools — like Canva — to create a tailored calendar.
9. Personalized water bottles: 'Quenching your realty needs, one sip at a time'
One of the most functional real estate pop-by ideas is personalized water bottles. Gifting water bottles aligns with health and wellness values, is highly practical, reusable, portable, and can act as a conversation starter.
Who would appreciate a personalized water bottle?
Water bottles are also universally appealing. Since water is essential for everyone — regardless of age, gender, or lifestyle — you can rest assured that your client will use it daily to stay hydrated.
How to add your brand and where to buy
Clients will likely carry these water bottles to various places, such as work, the gym, or while exercising, resulting in consistent visibility of your branding. Since water bottles are easily customizable, add your logo, brand colors, and a personalized message or slogan to remind your clients of your real estate services.
You can easily purchase blank wholesale bulk water bottles online.
10. Customized candle sets: 'Your referrals light my business on fire'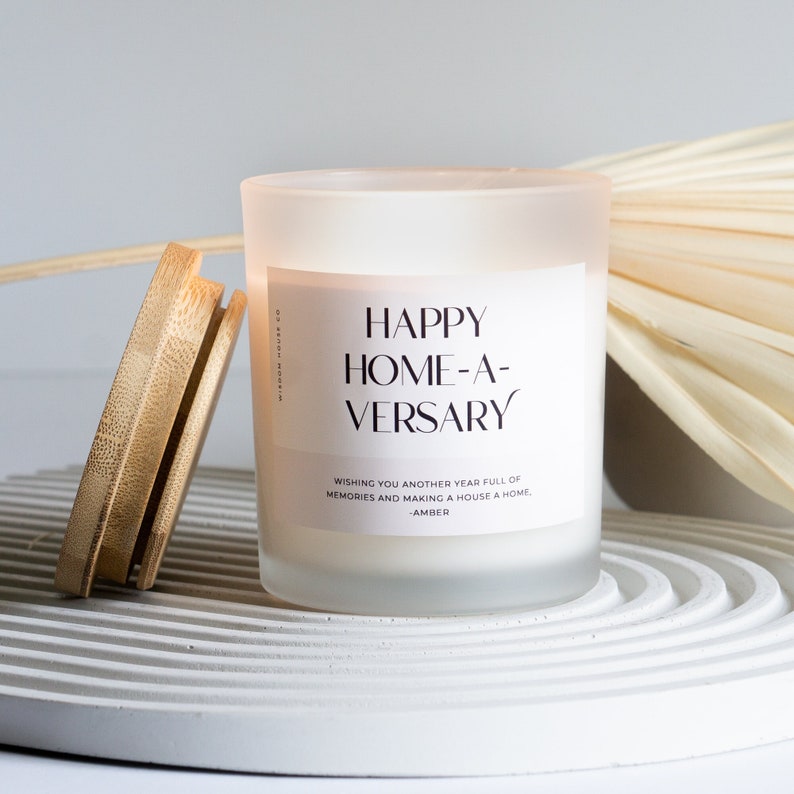 Candles make a great pop-by gift throughout the year, but especially during the upcoming winter months. As the days grow shorter and the weather colder, people enjoy lighting scented candles while soaking in a warm bath. Candles brighten up any space with their warm glow and provide an aromatic smell for everyone in the house to enjoy.
Who would appreciate a customized candle set?
Customized candle sets are a versatile gift enjoyed by almost everyone. Whether your client is an empty nester, couple, first-time homeowner, or a family, you can be sure they'll appreciate the sentiment.
How to add your brand and where to buy
Candles — often associated with relaxation — will create a cozy atmosphere whenever they're lit, leading your client to associate your brand with the comfort and well-being that the candle provides. Moreover, candles are usually placed in prominent areas within homes, such as living rooms or dining tables. Gifting branded candles ensure that your name is seen by your client — and their visitors — frequently.
Scented Designs offers a large variety of hand-poured soy candles that can easily be customized with your branding.
Tips for personalizing real estate pop-by ideas
You don't need innovative client engagement to get your name out there; you just need to master the art of personalizing your gifts. Branded real estate items that add value to your clients' lives help you stay at the forefront of your clients' minds. But knowing that you need to personalize your real estate pop-by ideas isn't enough — anyone can add their logo to a gift and call it a day. You need to know who your clients are and what they like to effectively add value to an otherwise ineffectual gift.
Know your clients' preferences
By knowing your clients' preferences — their likes, dislikes, hobbies, and interests — you can choose gifts that align with their personality, showcasing your attention to detail and making the gift more well-received and memorable.
While choosing the right gift is important, choosing the wrong gift may be detrimental to your success. Consider this: gifting gardening tools to a client with a green thumb increases the chances that the tools will be used. This acknowledgment that you've taken the time to appreciate your client's uniqueness will increase loyalty and positive feelings. Conversely, gifting gardening tools to a client who has expressed that they don't enjoy working with their hands may leave them feeling disappointed that you haven't paid attention to their preferences. This could diminish their confidence in your ability to address real estate needs.
Personalized real estate pop-by ideas will set you apart from other brokers who may offer generic gifts. Doing so will prove your commitment to going the extra mile and creating a unique client experience. Lastly, a personalized gift is more likely to be remembered over time, resulting in your client recalling the kind gesture and increasing the likelihood of them reaching out to you for future real estate needs or referring you to prospective clients.
Keep it relevant and timely
Timely pop-by gifts capture your clients' attention and engagement because they relate to what's currently happening in their lives. If your gifts align with their immediate needs, they're more likely to perceive the gift as valuable and useful, enhancing the effect of your gesture.
On the contrary, an untimely or irrelevant gift can feel like a wasted effort for both you and the client, and it won't contribute to strengthening your relationship. Giving a keychain to a client who just sold their home and handed you their keys would be untimely or unthoughtful. However, attaching a keychain to a set of keys and handing it over to a first-time homeowner after closing the deal is a thoughtful and meaningful way to show your appreciation while tactically placing your name on an item they'll be using for years to come.
Include a handwritten note
There is something very pleasant about receiving a handwritten note. They evoke emotions — sincerity, warmth, and appreciation — in a way that digital communication just cannot achieve while also fostering positive feelings towards you and your real estate services. In an increasingly digital world, receiving a handwritten note gives you a leg up in the competition because it stands out as genuine, conveying that you took the time to craft a message, especially for your client.
Of course, incorporating your branding on the note reinforces your identity, making it a seamless part of the communication. Since handwritten notes are often kept for a long time due to their sentimental value, your message and brand will continue to resonate with your client over time.
Get higher referral rates by partnering with Luxury Presence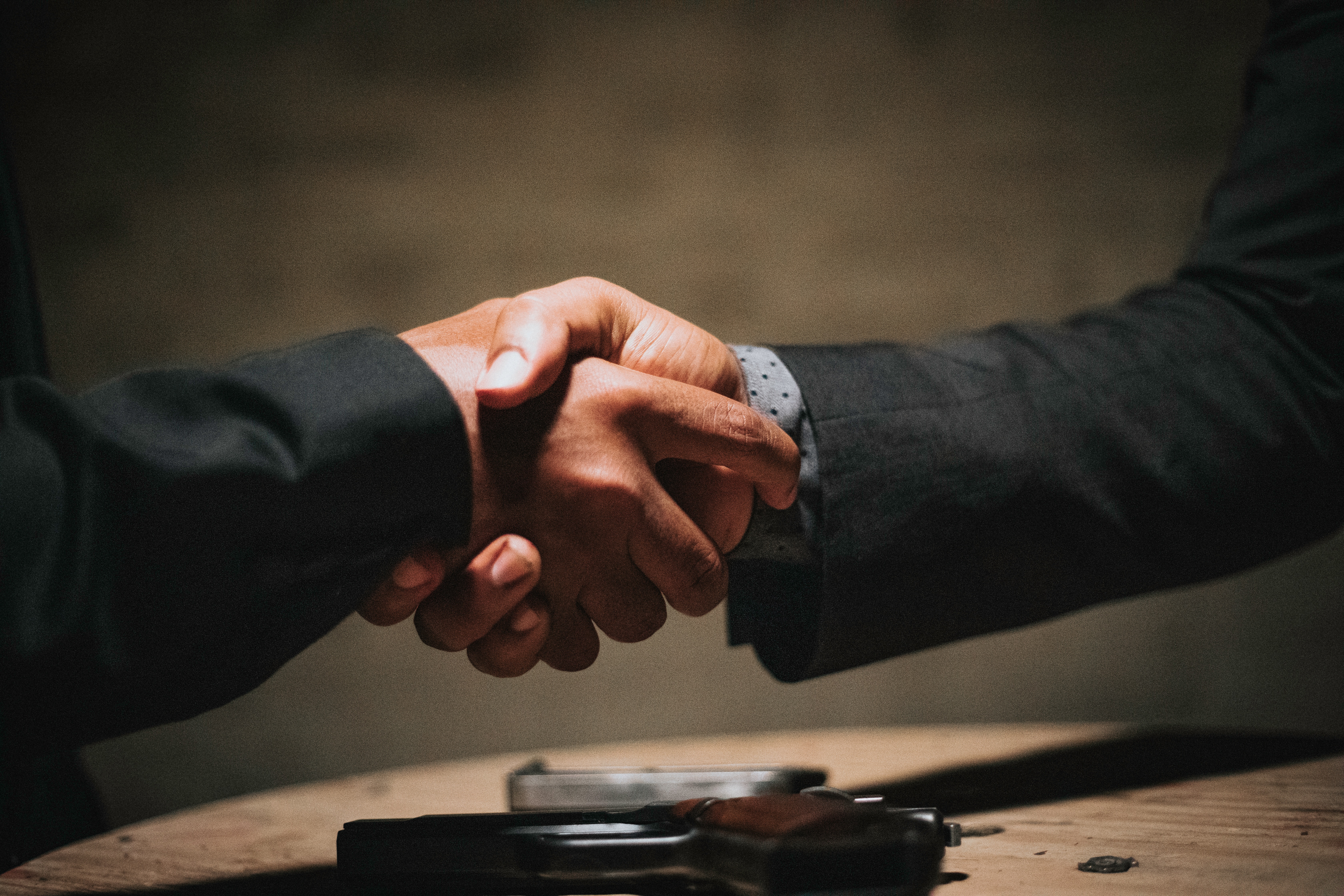 Thoughtful gift-giving has a profoundly positive impact on both you and your client and will assuredly encourage ongoing relationships, boost your brand recall, and improve your referral rates. Pop-by gifts can make a big impression on your clients without a big investment, especially when they are sent with intention and are cleverly personalized to each client's lifestyle. No matter what gift you settle on, remember that personalization, attention to detail, and effort will set you above your competition.
There are more effective tools to market your brand than only delivering real estate pop-bys. Partner with Luxury Presence, an award-winning platform dedicated to helping agents, teams, and brokerages with the tools they need to succeed. Want to take your real estate business to another level? Reach out to our team to learn more about how we can elevate your brand and help your business grow organically.