In real estate, creating a compelling story around a home is a necessity. The right narrative can transform a simple piece of property into a dream home or a lucrative investment opportunity for potential clients.
As a real estate agent, you get to be the crafter of these narratives, and a well-written press release can help make your story stand out from the crowd. 
A press release is one of the most impactful ways of communicating your story, brand, and properties to the world. When utilized effectively, it's a tool that allows you to control the narrative and present your property in a way that resonates with your target audience. 
Whether you're launching a new property, announcing a significant sale, or sharing news about your real estate business, a sharply written press release can be a game-changer. 
Keep reading for insights on when to publish a press release, which information should be included, and the best practices for creating public statements that capture attention and leave an impression on readers.
When to publish a press release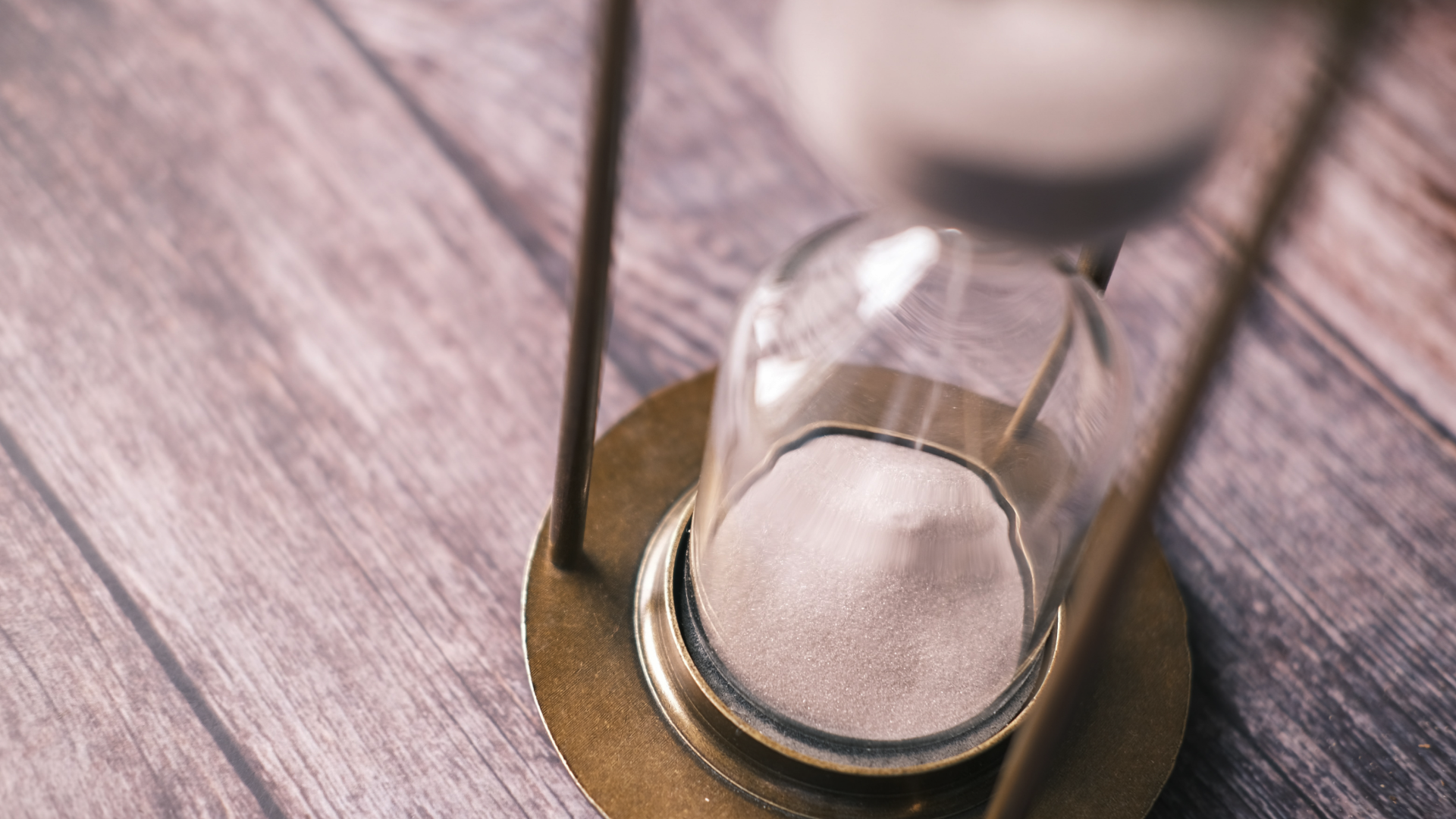 Press releases allow you to effectively share your achievements, partnerships, and exciting new ventures with your audience—showcasing your capabilities and establishing yourself as a trailblazer and industry leader. But when exactly should you plan on publishing a press release? 
Here are some examples of when you could create a press announcement:
New property launches:

Having a new property on the market is a great time to write a press release. You can use this press to highlight the property's unique features and how it stands out in the market—anything from its location to its design to any exciting amenities.

Significant sales or acquisitions: If you've just closed a large deal, whether a single high-value property or a number of properties, it's time to drum up some press. Sharing news of significant sales or acquisitions demonstrates your capability as a real estate agent and builds trust with your clients.
Industry awards or recognitions: Awards and recognitions are clear indicators of your expertise in the real estate market. If a reputable industry organization has recognized you or your agency, share this news with your audience. This boosts your credibility and sets you apart from your competitors.
Partnership announcements: Partnerships with other real estate agencies, financial institutions, or development companies are worth announcing publicly. They show that you're expanding your network and successfully scaling your business.
Knowing when to publish a press release is a strategic move, so keep the above tips in mind when determining whether or not it's a good time to send out a media statement. 
The 11 key factors in your press release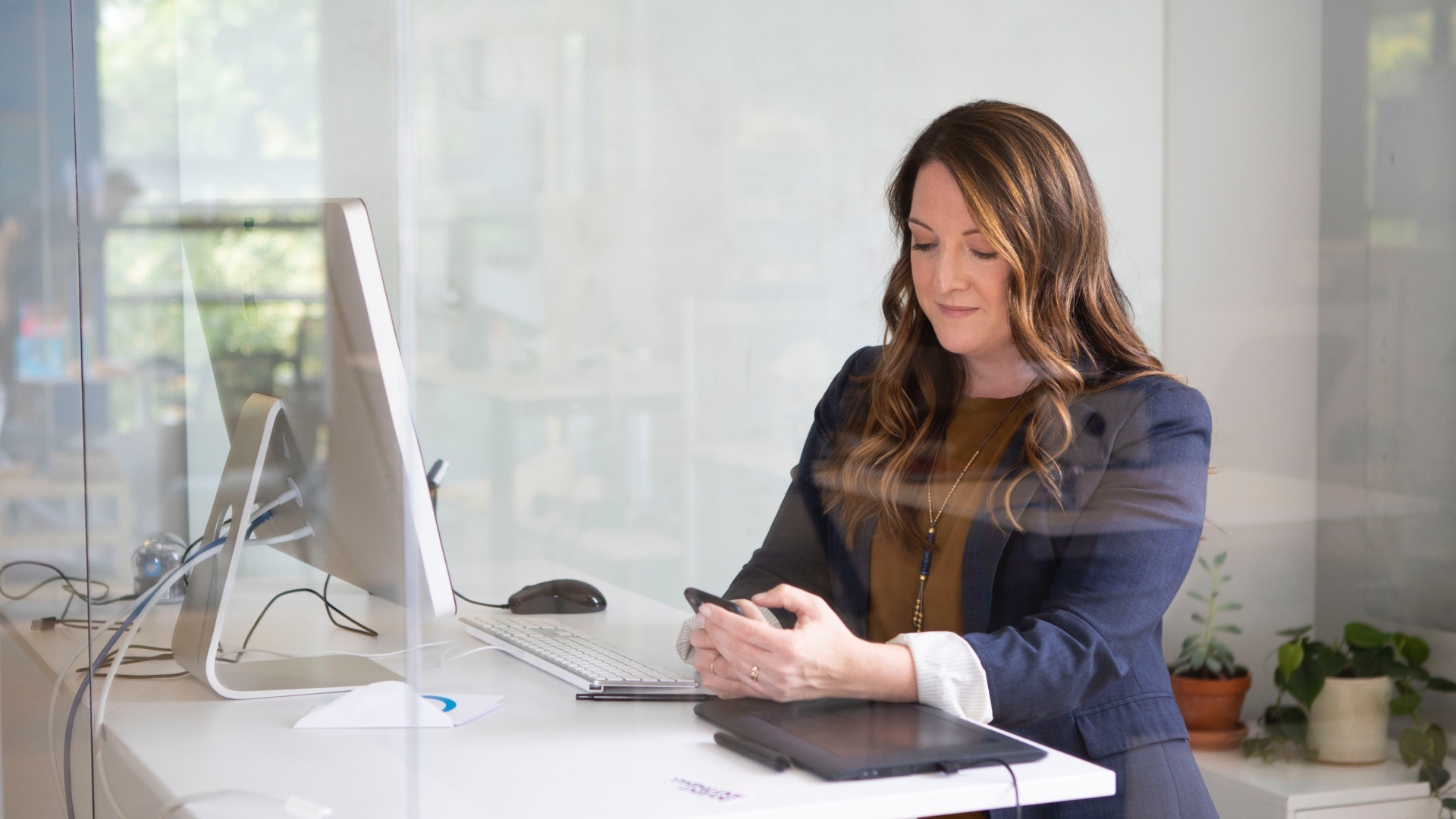 While writing a press release might seem daunting at first, we've made it easy for you to start by breaking down the 11 essential pieces to include in the statement: 
Headline 
The headline is your first opportunity to grab the attention of the public and the media, so make it compelling and concise. Your headline should summarize the essence of your story while making people want to read more.
Subheadline
The subheadline is a single line that expands upon the headline. This should provide a bit more detail about the subject of the press release. 
Dateline 
This includes the city where the press release is issued, along with the date.
Introduction paragraph
This is where you set the stage for your piece—provide the "who, what, when, where, and why" aspects of your story right up front.
Body copy
The body of your release is where you delve deeper into the story with more information. Use an inverted pyramid structure over multiple paragraphs, starting with the most important information first and gradually moving to the less important facts. 
Be sure to include quotes from key stakeholders or experts to provide additional perspectives and authenticity, along with any supporting data for credibility. 
Boilerplate 
Consider this your brief "About Us" section—usually a single paragraph—that gives background information about the company or organization issuing the press release.
Contact information
Be sure to include your contact information so interested parties can reach you easily. This is a chance to showcase your company's offerings, so make it simple for potential clients to reach out for more information.
Multimedia (optional, but recommended)
Similar to building out your website with multimedia elements for more engagement, consider including them in your press releases as well. Choose high-quality images, videos, or infographics that add value to the story and enhance your property's unique features and aesthetics.
Call to action (optional, but recommended)
Once the reader has reached the end of your press release, don't leave them hanging. Direct them on what to do next—whether it's encouraging them to visit your website, attend an open house, or contact you for more information.
Notes and instructions (if applicable)
Use this section to provide journalists with any special instructions, like a press embargo. This will clarify the media's understanding of your press release, ensuring they deliver accurate coverage.
End notation
Finally, include a symbol or notation to indicate the end of the press release. Most commonly used is a simple "###" placed at the end of the content.
With these essential pieces in place, you can confidently get started on mastering the art of writing an impactful press release. 
The dos and don'ts of press release messaging
Now that you know the essential pieces of a press release, it's important to touch on the actual messaging itself. Here are some dos and don'ts to help you navigate finding the perfect tone for your statements:
The dos:
Do keep it concise and focused: Be sure to keep your content brief and to the point. Respect your reader's time by providing only the most critical information. For example, if you're announcing a new listing, focus on the property's unique selling points and not a long history of the neighborhood.
Do use a professional tone: A press release is a professional communication tool, not a casual blog post. Maintain a tone that uses clear, professional language and avoid colloquial expressions.
Do include relevant keywords for search engine optimization (SEO): Optimize your press release for search engines so it has a stronger chance of being found. Use SEO keywords related to real estate, such as "new home for sale," "luxury property listing," or "real estate agent in [your city]."
Do make it newsworthy and valuable for the audience: For readers to want to read your press release, it has to provide value to your audience. Make sure the content is newsworthy and interesting. For example, a press release about an architecturally significant property listing or a meet-and-greet with a celebrity interior designer is more likely to captivate your audience than a run-of-the-mill property listing.
The don'ts:
Don't use excessive jargon: While some jargon is unavoidable, excessive use can alienate your audience. Avoid using technical real estate terms that the average reader won't understand.
Don't overly self-promote: While the ultimate aim of a press release is to promote your business, it shouldn't read like an advertisement. Rather than talking up your services, focus on providing useful information to your audience.
Don't bury the lead: The most important information should be at the beginning of your press release. Readers will be more likely to stop reading the release than to go hunting for the main point of the article.
Don't forget to proofread: A press release riddled with typos and grammatical errors signals a lack of professionalism. Always proofread your work or ask for an additional pair of eyes to confirm it's good to publish.
Writing a press release that is both engaging and effective requires balance. By keeping these dos and don'ts in mind, you can craft a press release that resonates with your audience and enhances your professional reputation in the real estate industry. 
Remember, a well-crafted press release is a powerful weapon in your marketing arsenal, so make sure to wield it wisely.
How real estate companies have successfully used press releases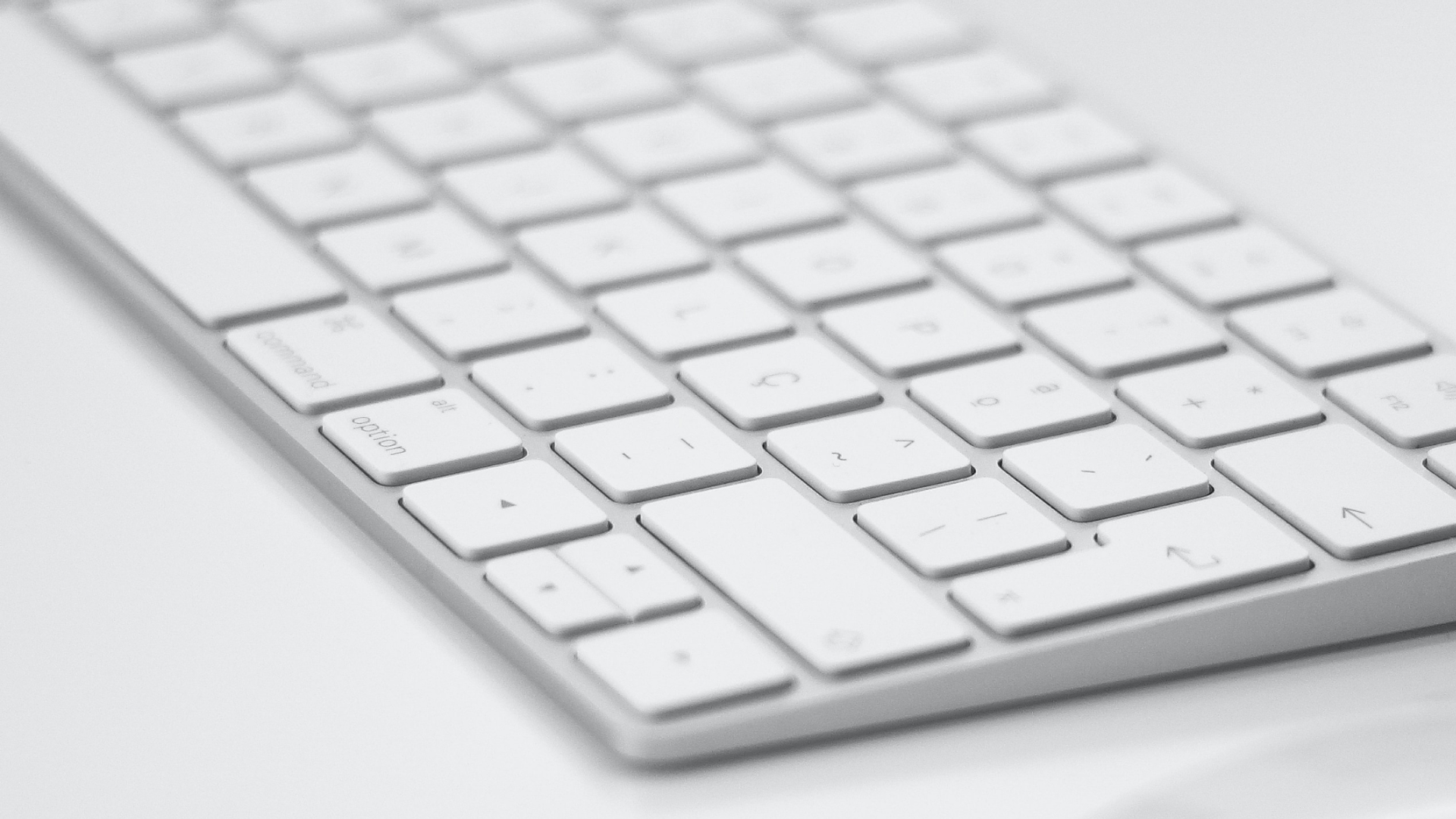 Companies that are actively incorporating press releases into their marketing strategy are strengthening their brand identity while positioning themselves as leaders in the market.
Here are some companies who have successfully leveraged a press release to create a compelling announcement about their business:
Concierge Auctions' record-breaking sale
Concierge Auctions effectively utilized a press release to announce the record-breaking sale of a mansion at 67 Beverly Park Court, marking it as the most expensive house ever to be sold at auction. This strategically composed press release didn't just outline the sale, but it also highlighted an extraordinary achievement for the company. It drew extensive media attention and resulted in coverage from major media outlets like the NY Post, CNBC, Fox News, and The Real Deal. This approach didn't just celebrate a significant sale but also reinforced Concierge Auctions' reputation as a leader in luxury real estate auctions.
Copper Ranch Villas unveiled 
With its unveiling of Copper Ranch Villas, KB Home showcased its extraordinary knack for aligning business objectives with public aspirations. Their approach to announcing this ENERGY STAR®-certified, eco-friendly community—all while maintaining affordability—not only resonated with the environmentally conscious public, but also reinforced their commitment towards sustainable living.
Ryan Serhant launches a brokerage designed for the new world
Ryan Serhant, known for his innovative approaches in real estate, successfully announced the launch of his multidimensional real estate brokerage through a well-crafted press release, projecting his unique approach to the traditional brokerage model. This press release showcased him as an industry disruptor, garnering attention and setting a progressive tone in real estate services. By effectively conveying his vision and services, Serhant was able to reach a wider audience and influence perceptions about contemporary real estate brokerage.
These examples show how a smartly crafted press release can have a significant impact on how a reader perceives a company. When done well, press releases can amplify your visibility, firmly establish your brand, and emphasize your capabilities in the industry.
Effortlessly create press releases with our free template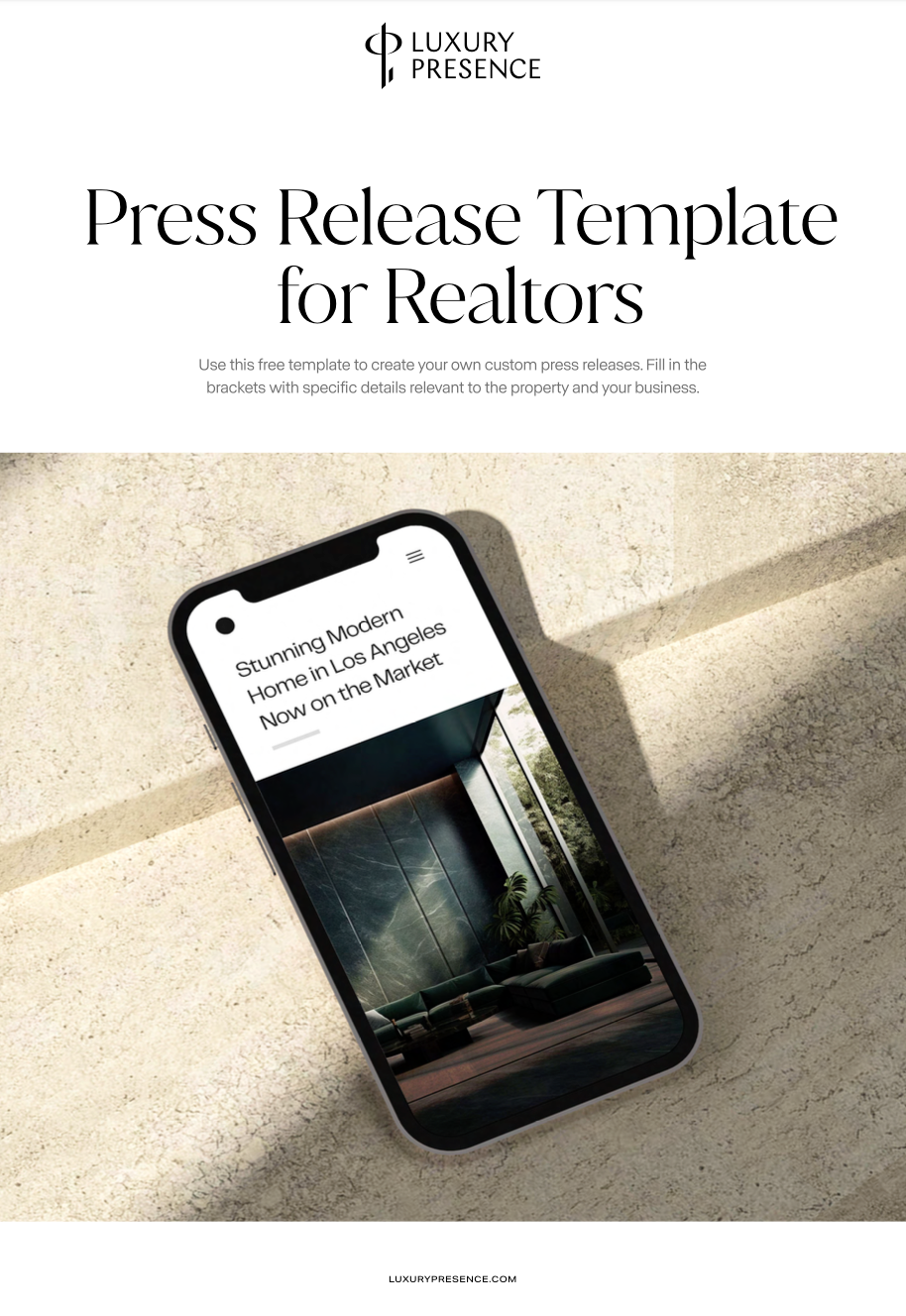 Our free real estate press release template serves as an ideal starting point for your property announcements, open houses, and other groundbreaking news. This tool has been designed with real estate agents in mind, enabling you to stand out in the industry.
If you're eager to say goodbye to the tedious process of drafting press releases from scratch, download our free template today.
Redefine your brand with Luxury Presence

Building a reputable brand in real estate requires a holistic marketing strategy that includes aspects like website design, SEO, social media, and a savvy approach to media relations.
At Luxury Presence, we help real estate agents transform their online presence while reflecting their unique vision and value. Reach out to us today to get started on building your own marketing solution and watch your brand grow.